By: Shannon, shannon@annarbortees.com
over 4 years
Applying for a job at Ann Arbor T-Shirt Company FAQs
"My resume's ready! How do I apply?"
Send your resume to jobs@annarbortees.com. Attach it to your email as a pdf or word document. Please no fancy file types, as these can be a struggle to open and may lead to your stellar resume never being seen. If you'd like, tell us in your email what you're interested in (e.g., art, screen printing, screen making, sales, etc.), why you're interested in our company, and why you may be a good fit.
"Is there an application?"
Yes! And you must fill it out to be considered for employment at Ann Arbor T-Shirt Company! You can find it here. We still recommend sending in your resume with a quick email to explain why you are interested and what makes you a good fit; however, you will only be considered if an application is fully completed and submitted.
"My computer's not working. Is there another way to apply?"
If, for whatever reason, you are not able to apply via email, feel free to drop your resume off at the Ann Arbor office location. The friendly salesperson working the front desk will see to it that your resume makes its way to Human Resources' hands.
"When should I apply?"
Winter, Spring, Summer, or Fall - you may send your resume over to us any time! Though we may not be hiring at the particular moment that you apply, Human Resources would love to hang on to your resume and reach out to you when an opportunity comes along that you may be a good fit for based on your interests and experience.
We periodically post ads for specific positions on sites such as Craigslist, Indeed, and University Student Employment websites when the staffing need arises. In those cases, we are looking to hire more immediately.
"This sounds like a really cool place to work, but I'm still a student."
Not a problem! We actually have several students that work part-time at the company. In fact, our Seasonal Minion position might be an excellent match for you. The winter holidays are a busy time of year for us, and we need extra hands for printing and packing garments during the day, evenings, and weekends.
The seasonal opportunity is great for students or others looking for a temporary position to make some extra money around the holidays. We typically begin hiring for seasonal workers beginning late Summer through mid-Fall, and the position goes until the end of the calendar year. The holidays are an especially festive time to work at Ann Arbor T-Shirt Company - you'll see many of our employees walking around in elf hats and spreading good cheer!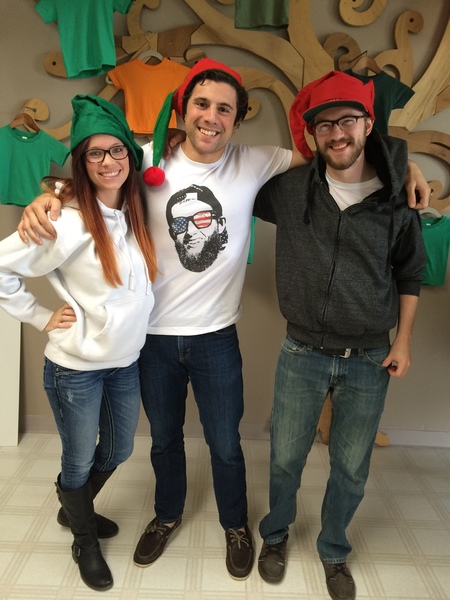 So fill out the application, and send on over your resume to jobs@annarbortees.com! Tell us why you should be the next great addition to the Ann Arbor T-Shirt Company team! And check out the next blog post for help in crafting the perfect application email!
---
Tags: #ann arbor tshirt company, #work, #apply, #faqs