By: Rachel T, rachel.t@annarbortees.com
about 2 years
Every Kiss Begins with Applique!
Applique can make any garment stand out among the hordes of plain boring garments.

If that picture wasn't convincing enough, read on to discover why applique may be the right choice for you.
Applique? Sounds fancy...
The word "appliqué" derives from the French verb "appliquer," meaning "to put on." Applique is a sewing technique that involves stitching a small piece of fabric onto a larger one to make a pattern or design. We start by stitching the piece of applique to the shirt in the shape of your design. Then, a laser cuts where the design was stitched so we can remove the excess material around the outline.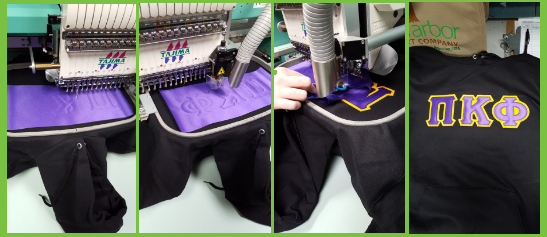 Stitching out design Cutting with Laser Pulling off excess applique  Finished product
Looks sweet! How'd we do that?
One of the disadvantages of applique is the risk of fraying and unraveling. This is due to the applique being stitched on top of the shirt. Since it is higher than the surface of the shirt, it is more likely to get caught on something. However, the embroidery pros at Ann Arbor Tees prevent this from happening by stitching an outline around the design with thread.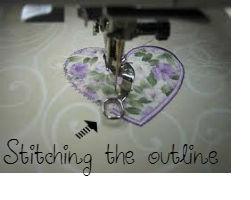 The purple stitch outline over the edges of the design holds it in place and makes it more polished.
Before applique machines, people had to hand cut the applique. They would then hand stitch the applique to the fabric. This method took a considerable amount of time and was prone to errors. That's why the Ann Arbor T-shirt Company has the help of the embroidery laser and embroidery sewing machine. They get applique jobs done fast and accurate.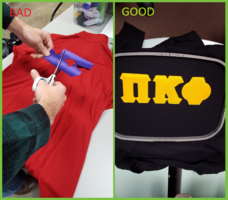 The purple stitch outline over the edges of the design holds it in place and makes it more polished.
Some companies may glue applique to fabrics or use a heat press. However, Ann Arbor Tees does not offer this type of embroidery. Glued applique does not stay on your clothes near as long as embroidered applique. Also, it tends to look unprofessional, especially when compared with machine cut and sewn applique. We will discuss this further in our next blog post in this series, Glue, Laser, Scissors.
So, who is applique right for?
Anyone who wants a clean cut and professional look should consider applique. Our top customers for applique garments are hockey teams and Greek organizations like sororities and fraternities. Beautifully embroidered applique names, numbers, and logos will make any sports team look like they belong in the pros. As Jack, our jersey expert, says, "The Stylish Team will Always Win." No one wants to look like the pick-up hockey team from around the block.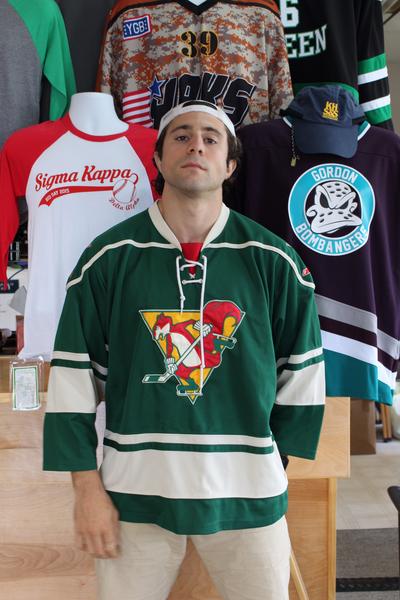 Interested in your own applique garments?
If so, be sure to contact one of our super helpful sales reps by clicking the request pricing button below!
Request Pricing
---
Tags: #custom jerseys, #how to order a shirt, #greek letters, #custom apparel, #applique