By: Rachel T, rachel.t@annarbortees.com
about 2 years
What's the Stitch?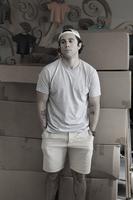 Plain Boring Tee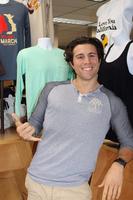 Branded Apparel
Embroidery is the process of decorating fabric or other materials with a needle and thread. Both human hands and machines can do this. While embroidering by hand may add a personal touch, our need for speed drives us to use embroidery machines. Our machines can embroider between 700-950 stitches per minute. The machines also have 15 needle heads that allow for 15 different customized colors of thread. This means we can offer embroidery with a ton of colors and provide it in one week.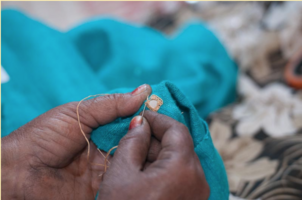 Although this person may be great at this, there is no way one person can stitch faster than one of our machines
Is embroidery right for me?
Custom embroidery is versatile and can be done on many different materials. Certain styles, such as polos, hats, jackets, and bags are ideal for embroidery. Want your employees to look sharp on the job? Polos and button downs embroidered with your company logo send a statement of high quality standards. They also double as cheap advertising! Need to make sure your players know what team they're on? Embroidered hats and jerseys make any team stand out!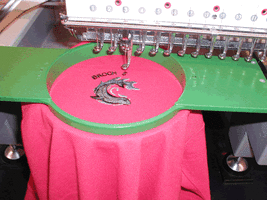 We can take your image and turn it into a stitched masterpiece that will surely impress everyone. First you send us an image ( jpg, pdf, ai, psd, or other formats), then we take that image and turn it into a digital format that the embroidery machine can read. This new art file will tell the machine exactly how to lay down all of your stitches. This process is called digitization.
Do you really have a cool laser that lasers garments?
Yes we do! We also offer applique on garments which does require the use of a pretty sweet laser that would make any villain jealous.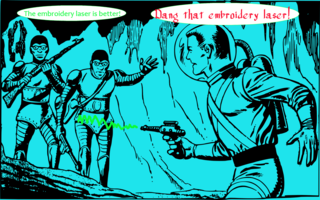 Applique makes your design stand out from the crowd and gives it a beautiful touch of silky smooth color. This is mostly used for hockey jerseys and Greek letter apparel. However, this is sometimes preferable to conventional embroidery. We will be happy to help decide come up with the best method for your need. Letters and numbers really pop with applique. We embroider garments for all fraternities and sororities and have the proper licensing too!
Greeks love applique!
Here is embroidery in action!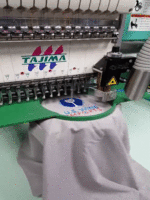 Here we are stitching out a logo for U.S. Wine Imports, one of our fine customers. Custom embroidery takes time to finish so in a sense it gets better with age, just like a fine wine. We will be expanding our online resources in the future to show you how the process works.
Interested in your own embroidery?
Whether you're a hockey player, a small business owner, involved in Greek life, or anything else, custom embroidery looks classy. So, if you can't wait to get started, request the pricing below and we will get back to you within a day!
Request Pricing
---
Tags: #custom embroidery, #embroidered shirts, #custom jerseys, #how to order a shirt, #custom design, #custom apparel, #corporate apparel